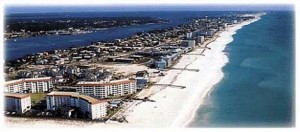 Florida's Emerald Coast was named …
"#1 Best Beaches in Florida" by U.S. News & World Report Travel in 2014.
"Top Place to Visit" by National Geographic.
"One of the Top 10 Most Beautiful Places" by Good Morning America.
Location … Television, surveys and magazines rate the Emerald Coast among the top ten in the world for its beautifully colored waters and sand as white as snow. The Gulfarium (dolphin show) and the Okaloosa Island fishing pier are only a mile away. The nation's largest designer outlet mall is only twenty minutes away in Sandestin. There are tennis courts all over, and also dozens of challenging golf courses, with spectacular views, within a short drive.  All units have kayak, boogie board, and stand up paddle board rentals at the beach.
Gone fishing? … The Okaloosa Island fishing pier is only a mile walk and can be seen from the front door. The fishing boats leave Destin every morning and return home with huge catches that continue to make it "The World's Luckiest Fishing Village."  The Gulf of Mexico offers fine bottom fishing, trolling and sport fishing, and many commercial boats operate year round with experienced captains. Charters are available for full and half day trips as well as extended trips. You can check them out here … http://www.westdestin.com/Fishing/destin_fishing.htm )Everything from amberjack, grouper, snapper, king mackerel, cobia and bluefish to magnificent blue and white marlin and sailfish may be caught by the skilled fisherman. Other types of fishing available are surf fishing, fishing from bridges and piers, casting swirling nets for mullet or going after blue crab with traps or nets. All may be done in the Fort Walton Beach area. Excellent freshwater fishing is available.
Shop 'til you drop … The power-shoppers in the family will not be disappointed by this area's vast selection of malls and shopping areas. Take a day away from the sun and sand to experience a different breed of paradise amongst the trendy boutiques, factory outlets, specialty stores, and more. Whether you're looking for thrifty buys or pricey elegance, Florida can accommodate! The nation's largest designer outlet mall is only thirty minutes away in Sandestin. Spend some time perusing the unique, open air town center Destin Commons, stroll over to Santa Rosa Mall: 'The EmeraldCoast's newly designed mall has all the current fashion looks in many dazzling stores. The Santa Rosa Mall offers over 100 specialty stores, the food court, two relaxing restaurants, a 10 screen movie theatre, and a specially designed carousel', or head out to Uptown Station for a fun outdoor shopping experience where they have something for everyone in 45 nationally and locally recognized shops!
Fun for kids, big and small … Our beautiful white sandy beaches are the claim to fame to our area. Water activities of all types are available in our area: wind surfing, wind sailing, snorkeling, scuba diving, wind boarding, boating, fishing, canoeing and picnicking in addition to land activities such as golf, going to the zoo, shopping, experiencing the Florida nightlife, and more! Tennis anyone? (Check out http://www.abfla.com/1tocf/tennis/tennis6.html ) Close by, you'll also find the Air Force Armament Museum, Emerald Coast Science Center, Indian Temple Mound Museum, Florida's Gulfarium, Big Kahuna's Water Park, and all sorts of kids' fun (including putt putt, go karts, bungee jumping, etc.). The bay is a short walk behind us, with a bay side beach/picnic area and free boat slip 5 minutes away. And, we even have room to park boats in our large private driveway! (For more information, see http://www.westdestin.com/index.htm )
Fore! … If you are looking for a good time on the green, you have come to the right place! Florida is flooded with impeccably manicured greens and fairways, challenging and popular courses, a wide variety of shot selections and personality–all framed by the picturesque scenery of the Emerald Coast! Sandestin Golf & Beach Resort, Shalimar Pointe Golf & Country Club, and Indian Bayou Golf and Country Club are just a few of the locations that the avid golfer can explore. These golf clubs offer a variety of practice facilities, golf lessons, special packages, club houses, and everything you need to make your Florida golfing experience the very best. (For more information, see http://www.fgolf.com/destin.htm )
We offer trip insurance to cover the cost of your trip, medical expenses, etc., if unforeseen events occur.  It costs 6.95% of your total trip cost.  Just click the link below for more information:
—————————————————————————————————————-
Pets ALLOWED at:
AV103-Aqua Villa 103 (2BR/2BA, 1st floor, sleeps 8 max)
… Address: 667 Nautilus Ct., Ft Walton Beach, FL 32548
AV201-Aqua Villa 201 (2BR/2BA, 2nd floor, sleeps 8 max)
… Address: 667 Nautilus Ct., Ft Walton Beach, FL 32548
AV204-Aqua Villa 204 (2BR/2BA, 2nd floor, sleeps 8 max)
… Address: 667 Nautilus Ct., Ft Walton Beach, FL 32548
AV205-Aqua Villa 205 (2BR/2BA, 2nd floor, sleeps 7 max, up to two pets under 25 lbs. each)
… Address: 667 Nautilus Ct., Ft Walton Beach, FL 32548
AV306-Aqua Villa 306 (2BR/2BA, 3rd floor, sleeps 8 max)
… Address: 667 Nautilus Ct., Ft Walton Beach, FL 32548

Pets NOT allowed at:
DW403-Destin West Gulfside Villas 403 (1BR/1BA efficiency, 4th floor, sleeps 4)
… Address: 1517 Miracle Strip Parkway, Ft Walton Beach, FL 32548
ETW1000-Emerald Towers West 1000 (2BR/2BA, 1st floor+, sleeps 6, min. age is 25 to lease)
… Address: 780 Sundial Ct., Ft Walton Beach, FL 32548
IE2G-Island Echos 2G (2BR/2BA, 2nd floor, sleeps 8)
… Address: 676 Santa Rosa Blvd., Ft Walton Beach, FL 32548
N2408-Nautilus 2408 (2BR/2BA, 4th floor, sleeps 8, min. age is 25 to lease)
… Address: 660 Nautilus Ct., Ft Walton Beach, FL 32548
N2410-Nautilus 2410 (2BR/2BA, 4th floor, sleeps 8, min. age is 25 to lease)
… Address: 660 Nautilus Ct., Ft Walton Beach, FL 32548
Wa123-Waterscape A123 (2.5BR/2.5BA,1st floor, sleeps 8)
… Address: 1110 Santa Rosa Blvd., Ft Walton Beach, FL 32548
All beach units' CALENDARS (the colored line means it is booked that night):